International Women's Day Populaire
March 8 @ 8:00 am

-

2:40 pm

Free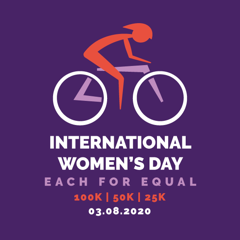 International Women's Day 2020 Together We Ride
To celebrate the achievements, persistence and future of women around the globe.
What is this? Come and celebrate women on your bike as we strive to promote gender balance in the world, raise awareness against bias and spread the word about this impactful day.
Who can participate? Everyone! All ages, all genders, LGBTQ+, non-binary, agender individuals, all religions, all worldviews, all cultures, all countries….EVERYONE!
Is this easy? It sure is. Register below, bring your bike and ride on March 8 with others around the globe.
Is there a prize for doing this event? Yep, of course there is a finisher's roundelpatch (designed by Doug of Umbrella Works, produced by Fall Creek Outfitters). All finishers of the event will receive a commemorative International Women's Day cycling ptch for a minimal fee. Payment of $10.00 received via check or PayPal at: dmpiech@earthlink.net
Can I share photos about the ride/event? Yes, definitely do share! The following sites have been set up to share your adventure, ride summaries and photos:
FB group: International Women's Day Bike Ride
Instagram #iwdbike
Twitter @iwdbike
How do I receive my finisher's roundel? At the completion of this ride the ride organizer will hand out the finisher's roundel.
Are there additional souvenirs that can be purchased? There may be some additional items for purchase – stay tuned!
What is International Women's Day?
International Women's Day is a global day celebrating the social, economic, cultural and political achievements of women. It began in 1911 with the goal to campaign for woen's equality. 2020 is the 109th year of this day of equality. The theme of the 2020 Iternational Women's Day is "Each For Equal"
When is Interntional Women's Day? Every year on March 8th.
Complete the registration form below. There is no charge to participate in this ride but you must be a RUSA member. Also note that for 2020 there will be no day of ride registration – advance registration is mandatory!
Ridewithgps route for the ride: https://ridewithgps.com/routes/27255407