This is one of those "all's well that ends well" stories. I got home from the Audax KC fléche late Monday evening. Went for a short ride on Tuesday and saw this: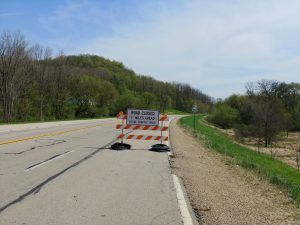 Uh oh! Further investigation revealed there were not one, not two, but three bridges closed on the 300K route. Frantic replanning ensued…
On Wednesday, I sketched out an alternate route. On Thursday I rode the alternate. Late Thursday and early Friday I revised the cue sheet, brevet card and ridewithgps route (side note: the cue sheet is ALWAYS the official route – remember that randonneurs!). The final versions of each were correct so we were good to go.
Saturday dawned clear and somewhat cold but we had a nice turnout for what ended up being one of the loveliest days we've had this year.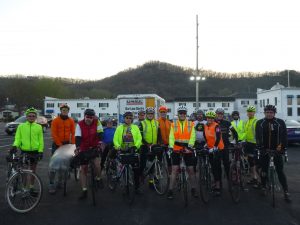 Since I rode the 300K, the remainder of this report is about that. I've heard from several of the 200K riders that they also had a very nice ride so all in all it was a great day!
The 300K riders rolled out on the revised route and it turns out that I actually prefer it to the original and am going to make it the permanent route for future rides. The route featured some nice landmarks (photos courtesy of Richard Burnside):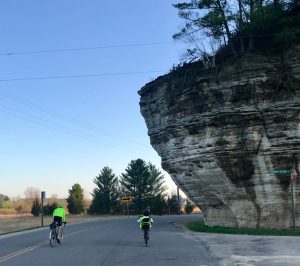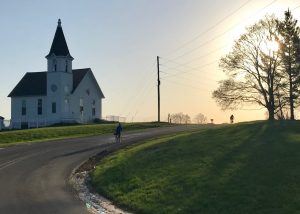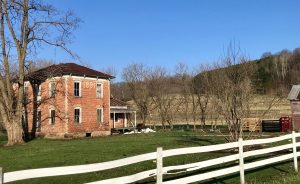 While on the detour portion of the route, Eric felt things were going too smoothly and decided to have a flat (if memory serves, he had a flat in exactly the same spot a couple of years ago). Dan and I stopped while he fixed it but he decided when we were just short of Yuba that we were still rolling along too quickly and had another.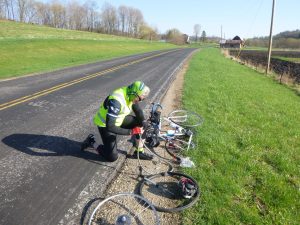 These turned out to be the only mechanicals for the day and thanks to Eric for taking one (two) for the team.
We made good progress toward the first c-store control at Boscobel then rode through the Green River valley toward Fennimore which has a small railroad museum featuring the "Dinky" – a short scale train that served the area in the 19th century.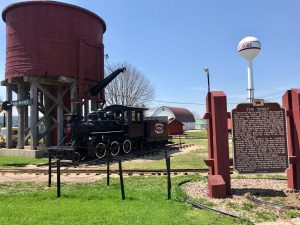 We stopped for a short lunch break in Fennimore (I don't even know if Randos can survive without Subway) then had another nice stretch through the White River valley headed toward Chimney Rock and the next control at Muscoda.
After our stop in Muscoda, we made the loooong climb up Co Rd N headed toward Taliesin and Spring Green which was our last convenience store stop on the ride. Everyone was feeling a bit tired but were in good spirits. We had two more "good" climbs between us and the finish (that last one took some riders by surprise!)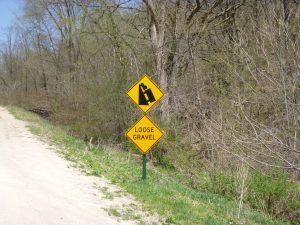 Everyone finished in good order and all agreed it'd been a beautiful day on the bike.
And, lastly but certainly not least, we had another in our "Sunday Pops" series with Regina and I being the only participants. Here's a shot of Regina near the mighty Wisconsin river. Another beautiful day!