Two weeks after our "Where Eagles Dare" 300K with temperatures in the 20-30 degree range we finally got some warm (and for some of us, too warm!) weather, unfortunately accompanied by thundershowers.
When I woke at 3 AM it was pouring and I thought "it's gonna be a long, wet day". It turned out to be a long day but not a totally wet one.
Seven of us lined up for the 5 AM start (sorry, no start photo) including Alex Pietrowski, Bob Booth, Dave Meridith, Tom McKenna, Lech Kiedrowski and Eric Peterson. In previewing the route, I'd discovered the Cenex control at Ontario closed at 9 PM and since I thought doing 216 very hilly miles in 16 hours was a tall order I changed it to an info control. Little did I know I had a couple of supermen (Dave and Tom) in the group! They pretty much dropped the rest of us in the parking lot and got there a little after 8 and finished together just after 10 – fast!
It was, as Bob Booth described it, a "perfect day for cramping" with cool temperatures at the start and super high humidity so you didn't "feel" hot but were pouring off water. The group (minus the speedsters!) got to the first control at Fennimore 40 miles in more or less together. Alex was the first one to leave the control along with Lech and Alex was on a mission! I left just after them and chased hard trying to catch but wasn't able to. I caught up with Lech on the long and steep climb on CR-C but Alex was gone.
Shortly after that Lech pulled up saying he was cramping. He had a V8 with him and drank it which he said helped. I thought "poor guy, awfully early to cramp on a long ride" and about 3 miles later I started cramping in both legs. I doubled down on Enduralite Extremes and the cramps eventually subsided but I was forced to soft pedal all the way to the control at Elkader at 106 miles. I was riding with Eric and Bob and we caught up with Lech (he passed us when we stopped at a store) before reaching Elkader.
I'm forced to turn the next bit into a personal ride report since that's all I have for the next segment. I've been struggling with heat for the last 3 years and after trying everything and beating my head against that wall with the same end result – me throwing up on the side of the road – I've finally concluded the only thing I can do that avoids that outcome is to just shut down in a cool place for a while until my core temperature drops.
I got to Elkader just behind the other three but was in "zombie mode". I bought a big plate of food since I knew I needed to eat but could only manage about 3 bites. I told the other three to go on and decided I was going to sit there until I started shaking from the AC which took about 30 minutes. The urge to quit was pretty powerful but I was at the extreme point of the route farthest from the start so I decided to continue at least to Monona where it wouldn't be such a long trip for my wife to come and get me. Fortunately for me, the extended break worked and I felt good for the rest of the ride.
As I made my way north (with a nice tailwind) I saw the skies darkening behind me. I tried hard to outrun the storm but it finally caught me at, poetically enough, Waterville. Unusually for me, I made the smart decision to stop and wait out the storm. 25 minutes of heavy rain, hail and lightning later the skies cleared and I continued on to the next control at Lansing. Had I tried to continue on in the storm I'd have had 10 miles on exposed ridge tops so although the urge to press on was powerful it really was smarter to stop. I hoped the others were more fortunate with the weather but learned later that Eric, Lech and Bob had heavy rain going into the control at Lansing but no lightning so they soldiered on through the rain. Alex had better luck, dark skies everywhere but no rain. He sent along a few pictures.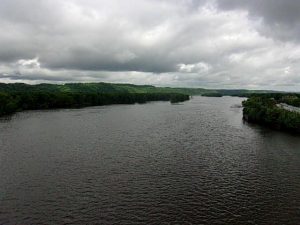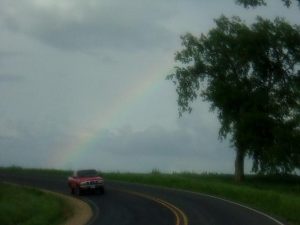 Although it was raining when I left the control at Lansing it quit not long before the long and steep climb up from the Mississippi river and that was the last rain I saw. I rode on to the control in Viroqua and stopped for something to eat at Culvers – the first "real food" on the ride for me – at about 8 PM then continued on into the descending darkness. I was riding strongly and thought if I were to see anyone else on the rest of the ride it'd be where the route did an out and back to Ontario and sure enough I encountered Eric, Lech and Bob on the retour about a mile out of town. I continued on to the control with only a brief stop and worked hard to chase back on. I caught Lech on the long climb up CR-P but really had to work to catch Eric and Bob – I found out why later when Bob said that rather than "soft pedaling" waiting for me "we were going 18 or so across the valley". I finally caught them just outside of Yuba and we rode the rest of the way together finishing just after 2 AM. Lech came in about 30 minutes later, turned out he'd gotten lost(?) in the "big city" and had to stop in a bar (surprisingly, he said it was "full of drunks" at 2 AM, who'd have thought?) to ask directions to the Ramada.
So a long, sometimes wet ride on a very hilly but very beautiful route. Although none of us wanted it to rain there was an unexpected upside to the threatening weather and that was significantly reduced traffic around areas that are busy on holiday weekends. Most of the route is on very quiet country roads but there are a few places, especially along the Mississippi river, where crowds can be heavy.  The fact that this wasn't the case was due in part to the less than ideal weather. As a result we spent the overwhelming majority of the ride rolling through beautiful scenery on quiet roads – randonneuring at it's best!
My barometric altimeter showed a little over 14K feet of climbing which, considering there are a number of runs through river valleys can only mean the climbs are long and steep! Dave and Tom were the first finishers followed by Alex about two hours later then the rest of us between 2 and 3 AM for 7 finishers and no DNF's. Great work everybody!