Spring in the midwest
The forecast for today's ride was temperatures in the 20's at the start, "warming" up to the mid-40's, winds gusting 25+ MPH out of the WNW and occasional sleet. Hit it right on the nose. Including wind chill the temperatures ranged from the mid-20's to mid-30's and it was mostly overcast all day.
Tough conditions that seem to be all too normal this year.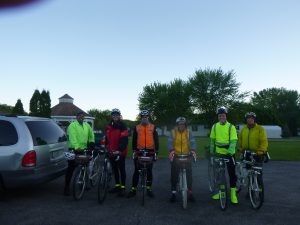 Seven riders registered for the ride and, perhaps foolishly, all seven showed up! In addition to the "usual suspects" (myself, Alex Piotrowski, Bob Booth and Mike Fox) we had Eric Peterson, Lech Kiedrowski and Todd Hoskins. Todd was not only doing his first 300K this was his first brevet at any distance. Talk about jumping into the deep end of the pool!
The first 106 miles of the route to Spring Green can best be described as "steep climbs linked together by challenging rollers"! Here's the route profile:

Six of us rolled out promptly at 6 AM. It turns out Lech was waiting for us at the front of the hotel and didn't see us ride by. Fortunately, my wife saw him on the route and was able to give him his brevet card and cue sheet. Although we wouldn't see him all day, he successfully completed the brevet.
See that first steep climb on the elevation profile? The first control was at the top. Between the climbing and fumbling about at the control the group split up. It turned out that Eric missed a turn at the bottom of the descent and would end up having a long and adventurous ride that ultimately led to a DNF. Among other things, he'd forgotten to put his pump on the bike and as "luck" would have it he naturally got a flat once he was on his own where none of us could help. Several misadventures later we'd eventually see him at the control in Spring Green and from there he rode directly back to Richland Center where a hot shower and refrigerator full of beer awaited. Come to think of it, he might have gotten the better end of the deal as the rest of us soldiered on into the wind!
Speaking of which, the winds were really howling, especially on the ridge tops, as we completed the first 100 or so miles to Spring Green. As it happens though, we "mostly" had some part of a tailwind during that segment as we went generally eastward in the WNW winds. I was really dreading the rest of the ride onward from Spring Green though, anticipating it would be one of those "put your head down and grind to go 10 MPH" kinds of efforts.
We made a rather lengthy stop at Spring Green since it was the only opportunity for "real" food on the ride then headed out to face the headwind. Although I might give up a few "hard man" points by saying so, it actually wasn't all that bad. We were either sheltered somewhat by the hills and trees or by the time we got to Muscoda the wind had lessened enough that it wasn't such a terrible grind.
From Spring Green we'd whittled down to a group of 4 with Eric heading back to Richland Center and Todd and Lech making their own way. The rest of the ride was mostly uneventful with the most challenging stretch being up CR-X. For those who've never been there, the road is approximately 9 miles long and it feels like you're going uphill that entire time – and steep too! We stopped to collect ourselves at the final convenience store stop on the route in Boaz then pressed on toward the finish with Mike and I finishing about 10 PM and Alex and Bob about 15 minutes later.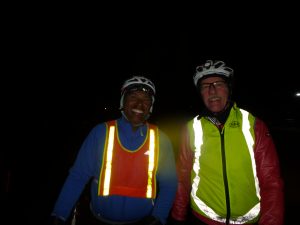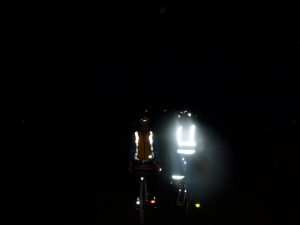 Normally, I leave an envelope in the hotel lobby for late finishers to leave their brevet cards but by this time of night it was cold and getting colder fast with temperatures in the mid-20's. I'd not heard from Lech all day and only had a message from Todd saying he'd gone off route about 16 miles so I didn't know where they were. Given randonneuring is "self supported long distance cycling" I suppose I could have gone home, showered and gone to bed but the thought of those guys having a mechanical in the middle-of-nowhere Wisconsin with temperatures in the 20's would've kept me up so I started driving back against the route. I encountered Lech first and he was on pace to finish inside the 2 AM time limit but despite driving more than 50 miles against the route there was no sign of Todd.
I returned to Richland Center and met Lech at the finish at 1:25 AM. I then got a message from Todd that he was in Boaz which meant he had more than 50 miles to go so there was no way he was going to finish in time. I drove to Boaz and retraced the route and finally found him in good spirits and riding strongly. I told him he wasn't going to make the time cutoff and he said "it was more about the experience than checking a box" and was going to continue riding the route to the finish – cheers to him! He rode the entire route (and then some!) and finished about 7 AM, 25 hours after he started.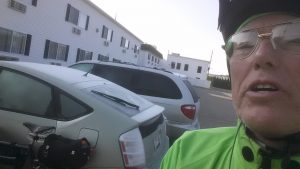 Despite a few misadventures all of us had a great ride on a challenging but lovely route. But next time – maybe a little less "epic" huh?