Here are some notes about the ride that will hopefully make everything go more smoothly.
The ride starts on 16 June promptly at 04:00 from the rear parking lot of the White House Ramada Inn, 1450 Veterans Drive, Richland Center.
Pre-registration is required. 04:00 is pretty early and it's a lot easier if you don't have to mess around with filling out waiver forms or brevet cards prior to the ride. If you've pre-registered, I'll have everything ready (brevet card & cue sheet) so all you'll need to do is have your bike inspected and you'll be ready to roll.
Lights and reflective gear (vest & ankle bands) are required for this ride. You must have one working headlight and tail light permanently mounted on your bike and a backup for both is recommended. There will be a bike inspection prior to the start.
This route was designed to be done in three days with an overnight in Richland Center on Friday and Saturday. Riding straight through is STRONGLY discouraged – rural Wisconsin folds up at 23:00 and there will be no food, no water and no controls open in the middle of nowhere.
There are a couple of controls at the end the first day (our longest) where the official control close time is after the convenience store that is the control closes. It SHOULD be possible for everyone to get to the control before the store closes but just in case you get held up there will be an alternative proof of passage and notes on the cue sheet about where to get water. See more details below.
Stops along the route are well spaced so there should be ample opportunity for food/water on the route but it's always a good idea to have a few extra gels/energy bars/etc.
As noted earlier, this is an unsupported ride and there are some longer stretches (40 miles) without a convenience store. I've indicated where e.g., soda machines, are available on the route and if conditions are extremely hot you should plan on using a CamelBak or having a 3rd water bottle.
Ride plan
I've done a preliminary ride plan to give you an approximate idea of when you can expect to get to the various controls (this doesn't include info controls since they're brief stops). The plan:
takes into account the amount of climbing between each stage and adjusts the ride speed accordingly.
assumes 45 minutes at each control. You'll likely spend less time at the earlier controls and more time at the later ones.
assumes 5 hours at the overnight. Note that this starts when your wheels stop turning and ends when they start turning again so deduct how long it takes you to prepare dinner/breakfast, eat, get ready, etc., from 5 hours to determine the amount of sleep you'll get each night.Of course if you're faster and/or don't dawdle at the controls you'll get more sleep!
Keep in mind that this is an ESTIMATE. It's possible to be considerably slower or faster than what this suggests but I think you'll find it to be a reasonable starting point for your planning.
With that as intro, here's the data (ignore the start date of 6/21, the time is what's important):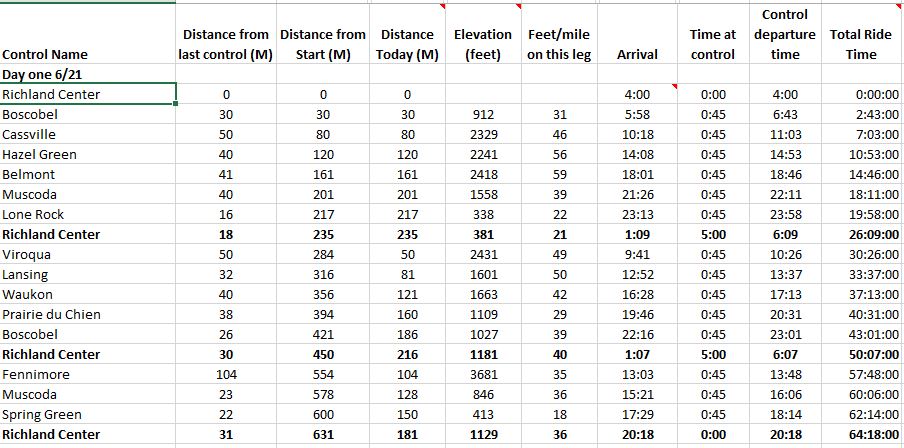 Some notes about ride segments on each day.
Day one
Take note of the distance between Boscobel and Cassville (50 miles). Although you'll be riding it in the morning when it's still relatively cool, if conditions are extreme that's a long way to go and there's no water available in that segment. This segment includes a fair bit of riding up on ridge tops where if it's either very hot or very windy you'll be working hard. Plan accordingly.
Cassville to Hazel Green is a tough segment with a lot of climbs (56 feet/mile according to ridewithgps). There are convenience stores in Dickeyville and a stop is recommended if it's warm.
Hazel Green to Belmont is another tough segment (59 feet/mile) and it's pretty open. A North wind or high temperatures will make this difficult. There's a convenience store on the route in Shullsburg and a stop is recommended if it's warm.
Belmont to Muscoda should be an easier segment, less climbing and it'll be late afternoon/early evening. There's a store just off the route (visible from the route) in Livingston if you feel like you need to stop.
The last control before Richland Center is in Lone Rock. The convenience store that is the control closes at 23:00. Most riders SHOULD be able to make it there before they close but it's only 35 miles from the previous control in Muscoda to Richland Center so if you're running late stock up in Muscoda.
Day two
Although it's a fair distance to the first control in Viroqua (50 miles) it'll be in the morning so conditions should be mild. There's a tavern in Liberty (35 miles) that might be open and the folks are friendly so if you need something you can stop there.
The segment between Viroqua and Lansing has a fair amount of climbing (50 feet/mile) and it's day two so it feels harder. It's only 32 miles but you can stop in DeSoto (about 25 miles from Viroqua) for fluids if you need them, there's a convenience store right on the route.
Lansing to Waukon can be a tough stretch if it's windy or really hot. There's a water spigot on the North side of St. Lukes Church which is a photo control and there's a soda machine in Eitzen right at the corner of Main St and E. Iowa.
The last control before Richland Center is in Boscobel. It's a 24 hour Kwik Trip so no worries.
Day three
Should be no issue there unless you're REALLY pushing the time limit. The Shell station closes at 23:00 and the control closes at 03:41. You'll pass a grocery store on your way to the control that has a soda machine out front so if you're running really late make sure you have some change for the machine and stock up with food in Muscoda.