Exploring the boundary between Epic and Stupid…
As those who've read previous ride reports will know, for 2017 we're running several brevets on the same day sharing the same route for as far as possible. For this ride, we were offering our "Nowhere but Norwalk 200K", the "Wildcat Mountain Wander 300K" and the "Back in Black (River Falls) 400K". This has proven to be a successful format with riders doing the various distances getting to spend some time together before those going farther split off.
A second "benefit" of the format became apparent as the ride date approached. About 10 days out (before the long range forecasts started showing up) the rider participation tally for the 200K/300K/400K was 5/2/4. This gradually decreased as the forecast showed cold and wet and ended up at 2/4/0. There's a message in there somewhere….
On the day of the ride the forecast had "improved" somewhat. Still pretty cold (42 at the start) but forecast to warm up to near 60 with intermittent rain. Winds were forecast to be pretty strong though and out of the east.
So much for forecasts.
We rolled out of the "big city" at 5 AM and enjoyed the quiet, and dry, roads. The group was chatting back and forth until the 200K riders split off at a little over 19 miles just past the huge city of Yuba (pop. 114, 3 bars). The routes criss-crossed each other between Yuba and the first store stop control at Norwalk so we'd see the 200K riders a couple more times.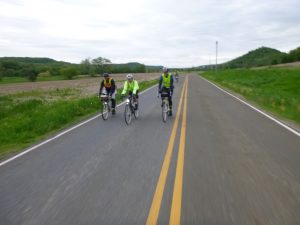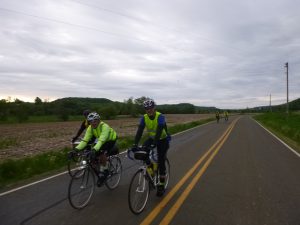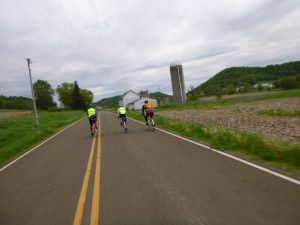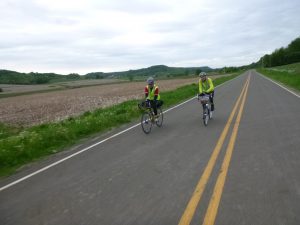 The 300K riders headed toward a couple of the longer climbs on the route, the first one being the climb out of the valley onto the ridge tops. This was a good warmup for what was in store as the second big climb was the eponymous WildCat Mountain. Not terribly steep by SW Wisconsin standards at "only" 11% but it does go on for a while…
We all made it up in good order then enjoyed the screaming descent down into Ontario. This is a major "port" for canoeists and kayakers on the Kickapoo but was strangely quiet, probably due to the weather forecast. Wimps.
All of the riders gathered again at the c-store in Norwalk. Although it was dry it was still plenty cold so all of us enjoyed getting a chance to refuel and warm up for a bit.
I spoke to a woman at the store who said "not a very nice day for a bike ride" and I replied "at least it's not raining". I later learned that Eric had also texted a friend saying it was dry.
Thus our doom was laid…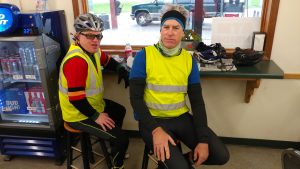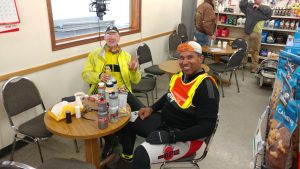 The rain started to patter down just as we were leaving the Norwalk control and started in earnest as we headed up the long climb out of Norwalk. I recall passing a tree with a bald eagle sitting in it and he looked as happy about the cold & rain as I was. The next destination for the 300K riders was the store stop in Warrens.
At one point we were riding along with the wind gusting to 25 MPH or so and the rain coming down in sheets and passed a woman on a riding lawnmower cutting her grass. I had a hard time deciding which of us was dumber and finally concluded it was her – we were having "fun", she was working.
We made it to the control in Warrens, riding in steady rain the whole way. The control is near a big camping area and for some strange reason the campers thought we were nuts to be riding in that kind of weather. I guess we all have our own idea of a good time.
Because of the cold and rain we weren't in any hurry to leave the control but when we did it had really started to come down hard so it took quite a bit of willpower to head back out. Our next stop was Sparta 44 miles away. As we were riding we kept hearing these huge "booms" but never saw any flashes of lightning. We debated whether or not to take shelter but there was something odd about the noise – it was too regular. There'd be a boom, a minute or so of quiet, then another boom and then a huge series of explosions. We finally realized it was artillery practice at the Ft. McCoy gunnery range (fire a volley, adjust windage and elevation, fire for effect). Glad we didn't stop to wait it out!
On our way into Sparta I pulled up next to Bill and asked him how he was doing. He was pretty miserable and said his teeth were chattering and he couldn't stop shaking. This was really concerning. It's pretty normal to get cold when stopped at a control but if you're cold when you're exerting yourself that's bad news. Bill was pretty under dressed for the conditions and only had a thin jacket on. When we got to the Culver's in Sparta I pulled out an extra Showers Pass from my bag and gave it to him and with that he was good (or at least tolerable) to the finish.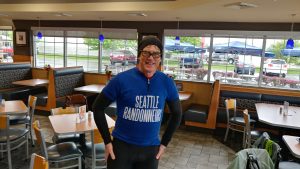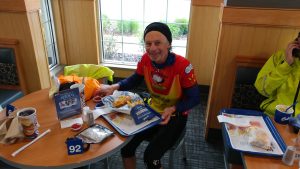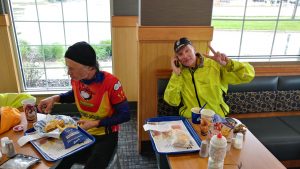 We all took on a pretty good amount of food at Culver's (how the heck do you spend $15 dollars on yourself at a fast food place?) which is a good thing because we pretty well leveled the place pulling off wet clothes, gloves, etc.
Somewhat restored after leaving Culver's we headed out again into heavy rain for the next leg up to Cashton. The first 5 miles out of Sparta is the worst on the route with fairly heavy traffic but it did have a nice shoulder and I guess 5 miles out of 196 isn't too bad. We finally exited the highway onto our now familiar quiet 2 lane country roads for the remainder of the ride to Cashton. Since that leg was only 25 miles we made a relatively quick turn at the control before heading on to the penultimate control in La Farge.
We got to La Farge just as it was getting dark and made a somewhat longer stop to refuel. I told the group the rest of the route had one long but not too steep climb followed by a downhill to flat roll back to Richland Center and this brightened the mood considerably. The weather had also improved, it finally stopped raining and the wind that had plagued us all day finally stopped so we had a pretty nice ride to the finish. We pushed the pace as I think everybody "smelled the barn" at that point and finished with a total time of 16:40. Not anyones fastest 300K by a long shot but the extended stops at the controls to warm up certainly didn't help our overall average. For the "Strava or it didn't happen" folks, here is a link to my ride.
So all in all not the nicest day of riding for any of us but we got it done on a really tough day which always brings its own satisfaction. We rode together as a group all day and the camaraderie helped turn a hard day into a fun one. My only regret is that we couldn't do the route on a nicer day – it really is a lovely route but it's hard to enjoy it to the fullest when the weather is bad. Too much of a tendency to put your head down and stare at the asphalt right in front of you. Next time!